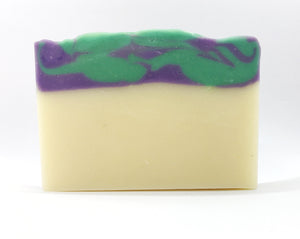 Over Koala-fied- Eucalyptus and Lavender
Regular price $8.00 $7.00 Sale
If you say "Rise Up Lights" out loud it sounds like you are saying "Razor Blades" in an Australian accent. 
I can't say this soap is Australian inspired as I've never been there (too many killer spiders). However, I will say I was inspired by the singular food of Australia's most popular animal. Koalas only eat Eucalyptus leaves, hence the name "Over Koala-fied.  Yes, it's a pun and no, I am not sorry.  
When blended with lavender, eucalyptus gives you the boost you might need on those days where you wake up thinking "I don't wanna go to work/school/take care of these kids"?  Over Koala-fied soap is what you need on those days.
Features: 
Scented with a unique blend of fresh and green eucalyptus and herby-floral lavender, to awaken the senses
Made with our special recipes of 6 skin-loving oils and butters
Scented with only essential oils. 
100% vegan
Handcrafted in small batches
4.0 oz
To Use:
Rub on

 

wet

 

body. Don't think about me while you do it. Rinse well.
To increase lather, use a washcloth. Or don't because that just creates more laundry.   
How Not To Use:
Don't get it in your eyes because it hurts like hell.
Be gentle around your junk. Wash around it but not in it. 
Ingredients: Olive Oil, Water, Coconut Oil, Cocoa Butter, Shea Butter, Sodium Hydroxide, Castor Oil, Avocado Oil, Sodium Lactate, Mica, Titanium Dioxide, Tin Oxide, Chromium Oxide, Manganese Violet