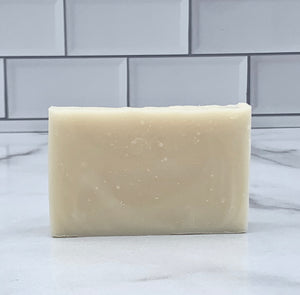 Perfect for tattoos
I love all of Oakley Soap Co soaps, and when my tattoo artist reminded me I have to use unscented soaps I was relieved because I knew I could use Ya Basic. It keeps my skin feeling clean and hydrated while still meeting the needs of new tattoos. Thanks!!!
Great for someone with skin issues!
I have contact dermatitis and until my derm can figure out what I'm allergic to, I have to stop using all of my regular skin products. Thank goodness for this soap! All of the ingredients are on my doc's "approved" list, and it's so much cheaper than the recommended $25 allergen-free body wash. Plus it works just as well as the other Oakley Soap Co soaps I've used.
Excellent for eczema
For folks with mild eczema who have struggled to find relief, this soap is a great tool to have. Scaly elbows slowly disappeared! This is also great for folks who are not inclined to go with scents but still want all the benefits of hand-made soap. I keep a few bars on hand always!
The dirt slayer
I have two boys ages 6 and 2. They're the kind of dirt throwing, puddle jumping, sandbox rolling, sidewalk chalk painting, mud pie making kids that spend 10 minutes outside and look like they've been cleaning chimneys all day. This used to be a problem because they're also both plagued with eczema and sensitive skin. This soap has been the stuff of miracles. Cuts right through all that mess with a light rub and doesn't throw their poor skin into turmoil. Even with (multiple) daily use. Highly recommend!